Hone your hack-and-slash skills and embarks on an adventure to compete against terrible enemies. Surely, you would love to play Gacha games, offering a beautiful mix of Anime Characters, Role-playing, and Action components. The developer chooses the Bleach universe for exploration and it includes a series of characters. All characters are unique in powers, abilities, personalities, and attributes. Both Single-player and Co-op modes are featured to make the game engaging and fabulous. 
Introduction
Two different types of gachas are available, such as Accessory and Character. In the previous year, the keyword of Bleach Brave Souls: Upcoming Gachas was trending, because players were from all over the world awaiting upcoming accessories and characters they used to battle against enemies and their bosses. Therefore, we bring you a guide to make you understand the types of Character Gachas you may figure in future updates. 
Before starting, you should know about Pull Rates and the Star system. There are two Gacha types in Pull Rates, such as Normal Rate (1x) and Double Rate (2x). Under the 5 Star rating, the pull rate would be 3% in Normal Rate while in the Double rate, it would be double. Similar to the first one, the pull rate behind the 4 Star rating would be 17% in the Normal Rate and 24% in the Double Rate. For the 3 Star rating, the pull rate in Normal Rate would be 80% and 70% in the Double Rate. Here you should know that the Normal Rate of Gachas includes the following: 
Mid-Month Summons 
Premium Summons 
Seasonal Summons 
Selection Gachas 
After learning about Normal Rate Gachas, here is a detail of Double Rate Gacha that usually takes place at the end of every month. It includes new banner characters; however, some are seasonal summons with double pull rates. The normal rate gachas includes fewer characters as compared to the double rate gachas. It means the chances of getting 5-star characters are lower than the normal rate, and the normal rate gachas gives you a higher chance to obtain a 5-star character. 
Bleach Brave Souls: How to Evolve Characters
Premium Summons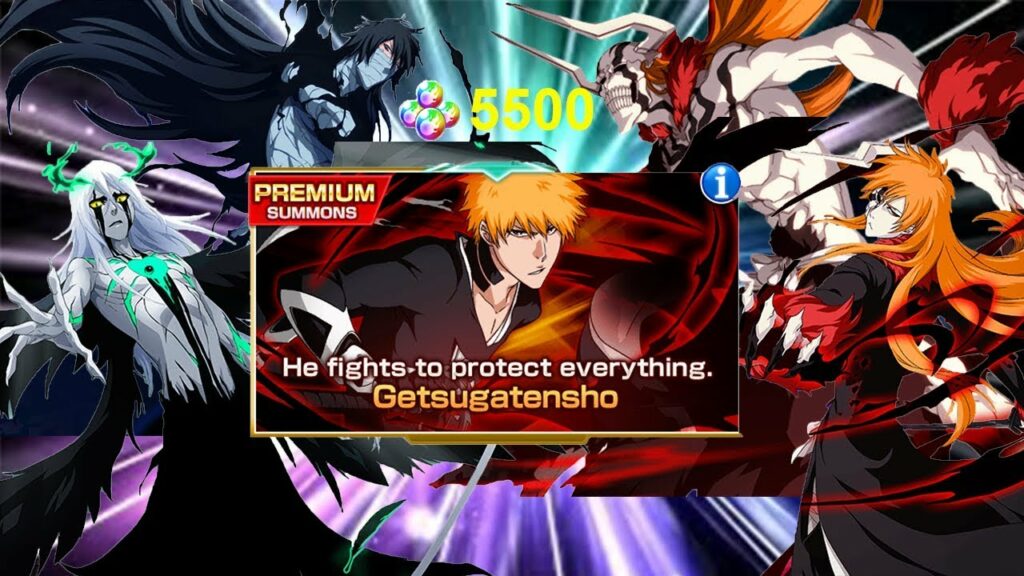 In Bleach Brave Souls, the gacha is always available that brings a pool of 5-star pools loaded with a 3% pull rate. Whenever a new character is released, the game adds it to the pool and makes the gacha live. 
Note: Summoning a character using the banner wouldn't be in your favor because you don't know what character you can get. 
Bleach Brave Souls: Premium Summons List
Selection of Characters
As you know, you have to make a team of three to five characters that have already been released with a 5 star of three percent pull rate. Additionally, the game features three different pools of 3, 4, and 5. The first pool comes with a 1% pull rate, the second with a 0.75% pull rate, and the third pool holds a .60% pull rate. 
 As you know, each character has unique attributes that distinguish them from others. However, you can visit the selection area to choose attributes of characters. Furthermore, three to five featured characters are sharing the same color attribute. 
You should know that 5-star characters may get the said killer after getting a banner that grants them bonus damage against a particular enemy type. The said ability only works when the player reaches 6 Stars. 
Getting a banner character means you are already promoted to 6 stars. However, the character with 5 stars won't appear in your pool and you aren't supposed to receive 50 orbs for increasing the star of your character. 
Bleach Brave Souls: How to get Unlimited Orbs?
Mid-Month Gacha 
Usually, these Gachas are planned to release in mid of month and are fully loaded with three new characters empowering 4-star units and have a 3% pull rate. Besides the end month, it is the only time when players can expect the addition of new raids. 
Bleach Brave Souls: How to use and get Hogyoku
Double Rate Gacha
If you aren't familiar with Double Rate Gacha, then let me define that it is also referred to as 2X (End of Month) that releases on the last day of the month. It brings three playable characters of 5 stars with a 6% pull rate. Apart from that, there are only nine characters with 5 stars in the available pool; however, six characters are known as filler, an old character. Characters introduced at the end of the month are relatively stronger than others. Before leaving, you should know that double rate gacha has more power to introduce new raids for the 5-star units. 
Learn about Seasonal Summons
As the name implies, introduced characters are an adaptation of an event or holiday. The game releases such types of banners once a week for a specific period. Therefore, both old and new characters can be introduced in the seasonal summons. Here is a detail of seasonal banners: 
New Year – Jan
Valentine – Feb 
White Day – March
Japanese Parasol – April/Jun
Swimsuit/Summer – Jul/Aug 
Halloween – October
Christmas – December
Bleach Brave Souls: Best PvP Characters
What are Step-up Summons? 
Step-up summon is a banner only released on the occasion of the game's anniversary. During the event, the more you summon, the more the rate increases of 5-star characters, depending on the banner. The majority of players don't know how it works; therefore, we bring you a small guide to learn about it. To your ease, the game splits it into seven steps and the first step comes with zero Orb cost but features a 3% pull rate, and in return, it rewards you with a free multi summon. The second step costs you 150 orbs and comes with a 4% pull rate; however, in return, it will reward you with three Hogyokus. Similarly, the third step costs you 250 orbs and has a 5% pull rate. The reward you receive after completing the third step is three Hogyokus Wills. At the 4th step, the game costs you 250 orbs and will display you a 6% pull rate, while the reward is three Revival Candles. Following the given format, Bleach Brave Souls introduces their new gachas every week and month. In short, every new week comes with new characters to play and enjoy.
Bleach Brave Souls: Tier List 2021