Before reading about Premium Summon List, you should briefly learn what the game is about and how it works. If you are new to the game, then let me describe that Bleach Brave Souls is an Action, Role-playing, Single-player, and Co-op video game developed and published by KLab, Inc. for Multiple Platforms. It takes place in the popular universe of Bleach and gives you a chance to experience the action-packed gameplay. The game features 3D graphics and it comes with intuitive controls along with a fast-paced hack-and-slash gaming experience. 
There are a series of playable characters; each one is fully loaded with unique moves and personality. When playing the game, you must unravel the unique moves of each character during the combat and take on enemies to earn in-game points. The main difficulty usually players may face-off during the time of building a team. As mentioned above, there are different playable characters available and each one has unique strengths and weaknesses. Therefore, you should keep a balanced team in mind whenever you come out to create a team of warriors. 
---
Develop Your Characters
The game introduces a highly detailed character improvement system that lets you build your dream warriors and a team. Next to that, participate in epic battles to show off your fighting skills and level up your avatars to improve their abilities. Improve your statistics and ascend your characters to reach their max levels. During the game, you can train your characters to improve their specific stats or link warriors together to offer additional support. 
Bleach Brave Souls: How to Evolve Characters
Characters List
Bleach Brave Souls has different playable characters with unique Rarity, Attributes Affiliation, Killer Ability, and Extras. You should learn about the character before choosing it and leading to the epic battle. More than 200 characters are available that you can summon a few of them when playing the game. To summon the premium characters, you need to use premium tickets that cost you real-world money. The premium characters are more powerful than average and can perform more damage when fighting against enemies and their bosses. 
Bleach Brave Souls: Upcoming Gacha
Summons Guide 
Before starting, the first thing you should learn is the pattern in the summons. Probably, every player has six new characters per month split into two different banners, known as Mid-Month and End-Month banners. Firstly, you should know which banner is perfect for you and that everyone appreciates your performance. Usually, I recommend the 2nd banner to those who are F2P. 
Secondly, you should know about Seasonal Summons, including Halloween, Christmas, Cacao Society, Japanese Parasol, Valentine's Day, and more. In case you forget to claim premium characters, you don't need to worry because some characters may make their appearance back in the upcoming year. However, between these banners, some characters with more fillers. 
Bleach Brave Souls: How to get Unlimited Orbs?
Premium Summons List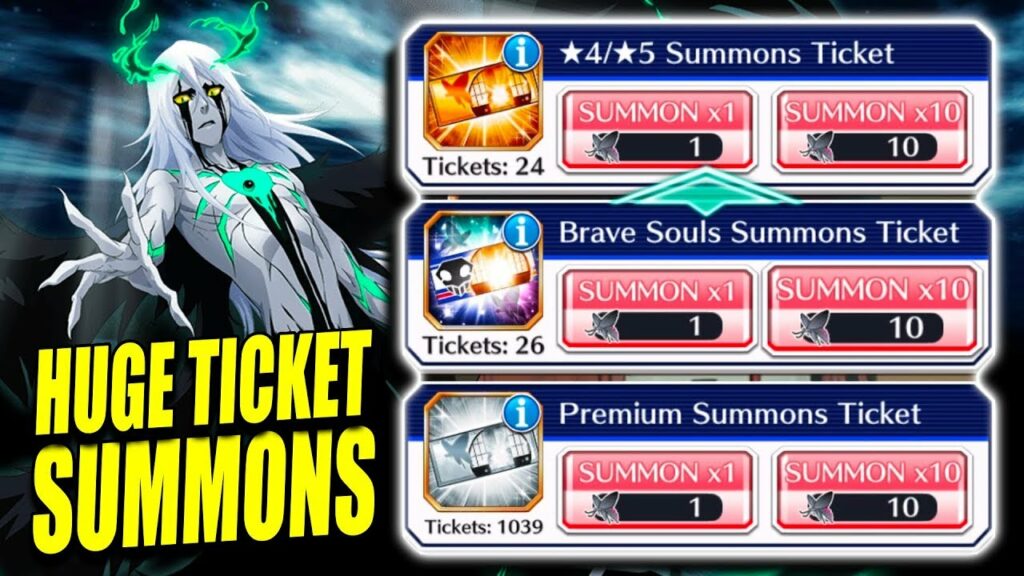 Surely, you would be familiar with orbs as they are the most vital part of the game and you can't perform summon without spending orbs. How many types of summons can you perform? The answer is five: 
Summon x1 
Summon x10 
Summon x100 
Clean Sweep 
Banner Sweep 
You have to spend up to 25 orbs for summoning x1; however, you can spend 250 orbs for summon x10. Names of premium Characters are the following: 
Yasutora "Chad" Sado
Nelliel Tu Odelschwanck
Nnoitora Gilga
Szayelaporro Grantz
Renji Abarai
Uryu Ishida
Edrad Liones
Ikkaku Madarame
In the single summon, you can call up to 221 characters of 5 stars with 3% Pull Rate. Similarly, you can summon characters of 4 stars with 17% Pull Rate, and can summon up to 25 characters of 3 stars with up to 80% Pull Rate. 
Note: If you don't know the rates for tickets that surely lower than an orb summon. However, the character pool is approximately the same as the premium summons, so we suggest you go with the premium banner to check out what characters are there. 
Bleach Brave Souls: Tier List 2021
Making use of summon x10 will guarantee to offer you one character of 4 stars or above. Similarly, going with summon x100 will cost you 2500 orbs and will bring 10 multi-units of characters. In short, the chances of grabbing more premium characters will increase many times than your expectation. Therefore, you should go with the 2nd pack if you have lots of bucks.  
Bleach Brave Souls: How to use and get Hogyoku
Clean Sweep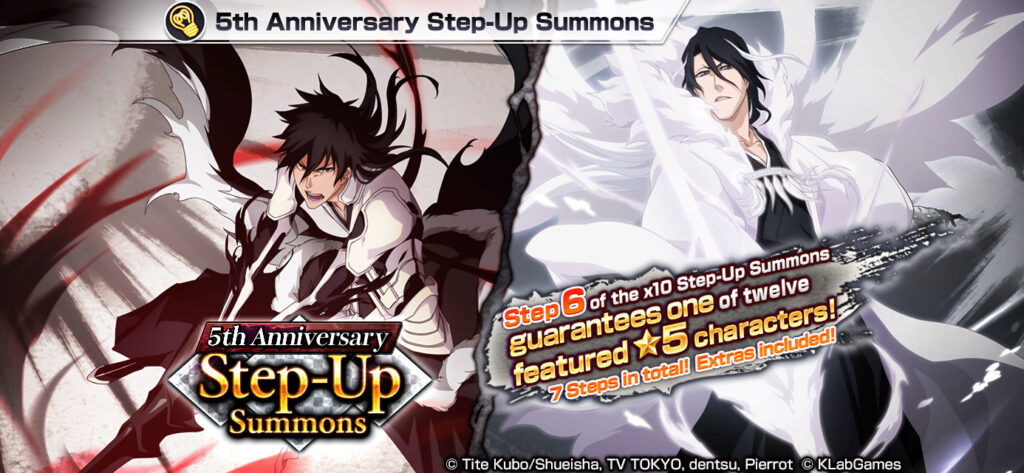 The clean sweep will come with 827 singles and up to 20,675 orbs. It has two different units of characters, known as Clean Sweep and Featured Units. Besides, you can also grab four premium characters to make your gaming experience awesome. 
Bleach Brave Souls: Best PvP Characters
Banner Sweep
It has three types and will land in 11 different steps. Here you don't need to spend any orbs, because it comes with five characters with 328 singles and five featured characters. 
Yoruichi Shihoin
Lisa Yadomaru
Hanataro Yamada
Kensei Muguruma
Ichigo Kurosaki
Each character has its unique STA, ATK, DEF, FCS, and SP. Furthermore, it comes with four different types such as Basic, Soul Tree, Attack, and Similarity. The game gives three different names to each character, known as Short Name, Full Name, and Variation. When fighting against enemies, summon premium characters using premium tickets and dominate the battle within no time. The more you play the game, the more you learn about it. 
Conclusion
Bleach Brave Souls serves as one of the best Gacha games. It comes with dozens of playable characters and each one holds premium powers that you can use to dominate opposing forces. Building a perfect team of characters isn't easy as you are considering. Start playing the game with star 1 and reaching 6 isn't a cup of cake. You should need proper planning and fighting skills. Next to that, you can use premium tickets for the premium summon list. Learn about each character you have in your tier list and master all of his unique abilities to get rid of all problems and conquer the bleach universe. Whether you love to play alone or with friends, the game won't show mercy on you.