Dragon Ball Legends is a Card-based Fighting, Single-player, and Multiplayer video game released for mobile devices, such as Android and iOS. Undoubtedly, you would be familiar with a manga series, Dragon Ball, as everyone might have experienced it in their childhood. Furthermore, it is well-known as a Gacha game that lands with a blend of Role-playing, Action, and Fighting game elements. There are lots of playable characters and each one comes with unique powers, abilities, and special attacks. As you may have seen in the manga series, Goku could turn into his special version, known as Super Saiyan Goku, granting him extra powers and skills. 
---
Moreover, if you are new to Dragon Ball Legends and don't know how to start then there is no need to worry because we have compiled a Dragon Ball Legends Beginner's Guide to help you learn the advantages and disadvantages of all characters as well as how to play the game. The thing you have to do is only to keep reading the article till the end so you can understand in a better way how to master all characters to make your grip stronger on the game. 
You may be interested in: Dragon Ball Legends: Tier List
Dragon Ball Legends Beginner's Guide 
Welcome to the beginner guide, here you will discover almost everything you should need to know regarding the game. Let's get started!
First Pulls 
Before starting the discussion about characters, you should know about rerolling. As the game starts, it offers you to play through the tutorial to learn the basics and reward you with many crystals that you can invest into your first pulls. Keep in mind that every pull comes with an almost 75% chance to reward you with a hero unit; however, a 20% chance is that you may receive an extreme unit. Besides that, getting a sparking unit is also possible and the chances of it are almost 5%. 
What is Rerolling? 
Rerolling is a term used to delete all data of your game to let it start from the beginning. Having said that means you will get a chance to get hero units. The majority of players do this to get a better start and to have an edge over pro players in PvP. 
You may be interested in: Dragon Ball Legends: Reroll Guide
Pros:
Getting a Good Start 
Have a Small Edge over Players in PvP 
Save more Crystals 
Cons: 
Types of Characters 
Dragon Ball Legends comes with seven different types of characters; each one is holding a unique personality, abilities, skills, and special attacks. The types of characters are given blue: 
LGT – Light 
DRK – Dark
RED – Red 
PUR – Purple 
BLU – Blue 
YEL – Yellow 
Grn – Green
Story Mode 
The story mode holds a specific mission wherein the game asks you to use a specific type of character to complete tricky objectives. So, whenever they ask you to land and attack using the LGT character, it means you are supposed to use a light character, Shallot, the only light character available in Dragon Ball Legends. 
Your First Battle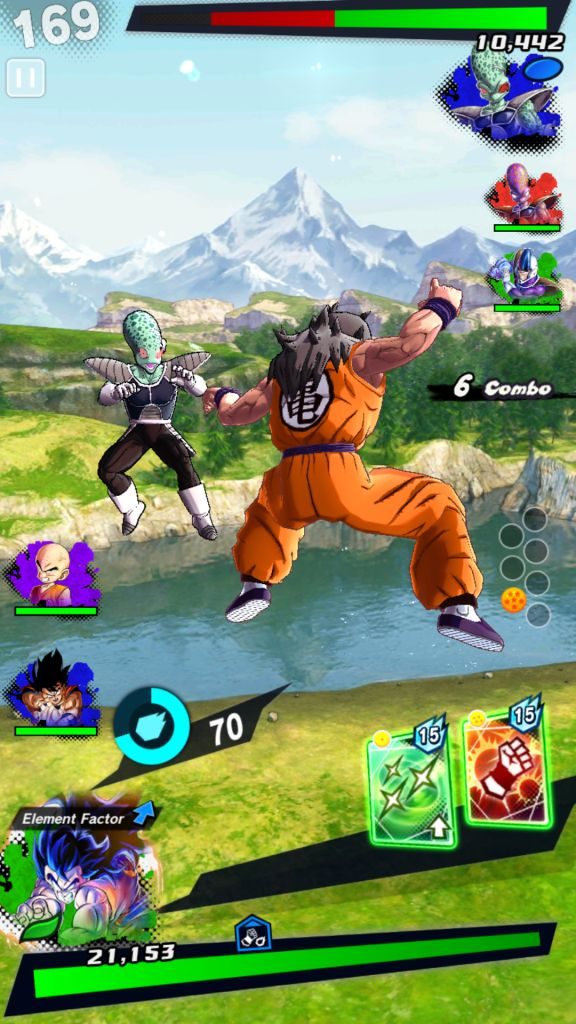 We have compiled a tutorial to describe to you the basics of the game and how you can control the character. Swiping up your screen will make your character move in the forward direction; meanwhile, swiping down the screen may let your character move back. 
The game features a Ki Meter that is responsible for starting a fight. Furthermore, the game features a bar at the bottom of the screen displaying your available cards. Each card has unique abilities and powers to use against opposing teams, as well as each one will cost you differently. Using light attacks with Art Cards may be helpful for you in competitive PvP mode. 
It is a defensive move that helps dodge attacks, ki blasts, rising rush, and more. Whenever you perform Art Cards, the chances of Vanish moving at the top of your screen is small. In case you have successfully collected seven dragon balls, then you are capable of performing a "Rising Rush" that is the most powerful attack of the Dragon Ball Legends. 
Learn Advantages/Disadvantages of Character Types 
As already mentioned above, the game has seven different types of characters. Each character can only have one type; each one comes with advantages and weaknesses. Furthermore, the game releases the characters with a unique element that is color-coded. Here you should know which color is strong against what color, as well as which color is weaker against what color.
You may be interested in: Dragon Ball Legends: Redeem Codes
Characters of the Blue type are stronger than Red and weaker than Green. 
Characters of Red Type are stronger than Yellow and weaker than Blue. 
Characters of Yellow Type are stronger than Purple and weaker than Red. 
Characters of Purple Type are stronger than Green and weaker than Yellow. 
Characters of Green Type are stronger than Blue and weaker than Purple. 
Apart from that, two more types of elements are also available that are given below. 
Characters of Dark-type are stronger than all elements but weaker than light.
Characters of the Light type are stronger than dark, but neutral to all elements. 
Rarities and Stats 
In Dragon Ball Legends, there are only three rarities as follows: 
HE – Hero: It is the most common type and comes with a pull rate of 73% on normal banners. 
EX – Extreme: The uncommon type of Rarity that comes with an almost 20% pull rate on normal banners. 
SP – Sparking: It is the rarest/strongest type that comes with a pull rate of 7% on normal banners.    
Next to that, almost every character comes with up to seven stars. All are unlocked after getting Z-Powers. Whenever you unlock, summon, and pull a hero character, it will leave you up to 100 Z-powers. 
Conclusion 
After knowing too many things about Dragon Ball Legends, you are almost ready to take on enemies and your opposing characters with no time. Learn more about characters and don't leave anyone alive in the game. Collect more crystals to survive longer and reach the end. Online PvP arena may pit you against other players and making your position on the leaderboard will reward you amazing prizes.
You may be interested in: Dragon Ball Legends: Increase Friendship Rank Fast