You have landed on the right page if you are looking for the best motherboard for i9 9900k. It is a very significant processor in the world of gaming and editing work. It would be best if you had a compatible motherboard that is trustworthy and has excellent features. The combined power of the motherboard and processor decides whether you can do well in the gaming world. 
If you plan to create a new gaming computer yourself, then the Intel Core i9 9900K processor is the way to go. It is the best in the category and gives tough competition to its predecessors. You can combine chipset-based Motherboard to overclock and exceed all expectations in gaming. This will be the best starting point for any builder. The Motherboard CPU Combo is also a great article to check.
You may be interested in: Best Motherboard For Ryzen 5 3600
The best gaming motherboard, on the other hand, is the foundation of your system. It's essential to get the right motherboard, and that's where we can help you. We have done extensive research and tried to bring some of the best motherboards you can choose from.
1. Asus Rog Maximus XI Formula Z390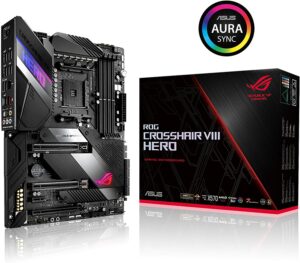 These are the leading motherboards from the famous company. Whether it is the features or quality, these are the best in the category. Asus motherboard can be used with overclocking memory of up to 4000Mhz. It has 3 PCle slots compatible for GPU and can support 3-way Crossfire and 2-way SLI. The motherboard has multiple ports-3.1-gen1, type A, and Type C and can be used for devices with USB 2.0 as well. You can install 64GB of memory on this motherboard. It is expensive because the components are of good quality and have an excellent cooling system.
You may like: Best Ryzen 7 3700x and 3800x Motherboard
The motherboard has a Digi VRM and 6 SATA6 slots also. It is packed with many features, which is why it is at the top of most gamers' lists.
Pros
Digi RAM
Best controllers for audio and networking
Supports multiple media platforms
Cons
Bandwidth is shared between the storage, and that may impact the performance. 
More expensive than others.
2. ASRock Phantom Gaming 9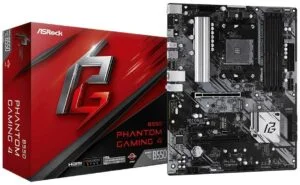 ASRock motherboard is very good and yet reasonably priced. The stylish motherboard comes with 4 RAM DIMMs and 12 Phase power design VRM. ASRock can support up to 64 GB at the speed of 4000+Mhz. It has 8 SATA6 slots and 3 M.2 slots, also note it connects using multiple ports- 4USB3.1 ports, USB 3.2 Gen2 Type- C ports, 3 USB 3 Gen2 ports. A special version comes with 10 GBPS ethernet  and this model comes with 1.73Gb/s Wi-Fi, and yet it is cheaper.
You may be interested in: Best B450 Motherboards
It has steel encasing for protection and the cooling system is average and could be improved. The motherboard is more expensive than many others in the market, but that is due to the build quality and features.
Pros
12 Phase Design VRM.
1.73Gb/s Wi-Fi.
Cons
The Cooling system is not that great. 
It comes under the expensive category
3. MSI Meg Godlike Z390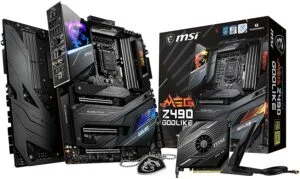 MSI Meg is a leading brand and well-known in the field of motherboards. A multitaskable motherboard is on our list as it is fully packed with features and still reasonably priced. It has an excellent 18 phase VRM that can help the processor overclock it up to 4400Mhz. Memory capacity is128 Gb. It is protected with heatsinks and black/grey PCB.it has many ports for connectivity – 3 USB Gen2 Type-A ports,1 USB 3.1 Gen2 Type- C port, 1 USB 3.1 Gen1 Type-A port but has some USB2.0 ports also. The manufacturers use very expensive controllers for audio and network. RGB lights and Wi-Fi are built-in as well as have 3 M.2 slots and 6 SATA6 slots. The motherboard comes with excellent audio processors and a headphone jack too.
You may be interested in: Best Z390 Motherboard
The only drawback is that some people may find it beyond their budget range. The features are all amazing, and yet it could do with a little better storage performance. The motherboard lacks a 10GBPS ethernet port, which others in this category have. You may have to get a full tower case for this. Otherwise, compatibility may become an issue. 
Pros
Connectivity through USB ports
VRM has an 18 Power Phase Design
Cons
Sometimes compatibility issues occur
4. Gigabyte Z390 Aorus Xtreme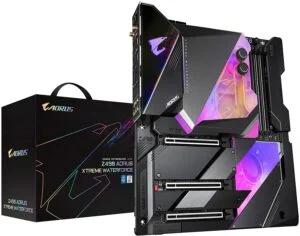 Gigabyte motherboards give a powerful performance and are reasonably expensive too. Power design VRM with16 phase that suits the i9 9900k perfectly. The motherboard can be overclocked with any good processor and has good memory storage with 4 RAM DIMMs. Gigabyte can support 128 G and overclocking can be supported up to 4400Mhz.
The motherboard has many connectivity ports- 4 USB 3.1 gen 1 ports, 4 USB 3.1 Gen2 Type-A ports, and one USB 3.1 Gen2 Type C port. It has 6 SATA6 ports and 3 M.2 slots for SSDs and these have heatsinks too. The audio capacitors are of excellent quality and the 10 GBPS Ethernet port makes it very useful also. 
You may like: Best Motherboard CPU Combos
You will need a full tower for this motherboard, and it is still a little expensive model. However, you can see that the features and quality match the price, and you can opt for it if you are looking for something to match the i9 9900k processor. 
Pros
VRM has 16 Phase Power 
Looks very sleek and modern
Audio quality good
Cons
Conflicts with HyperX modules.
Reasonably priced for the features packed into it, but people may find it expensive
5. Gigabyte Z390 Aorus Ultra




Gigabyte Z390 is the best pick if you are looking for Wi-Fi and RGB lights. The stylish motherboard comes with these and much more installed. The VRM comes with 12+1 design power, so all the motherboard components get the requisite power. This can support up to 4400Mhz and a maximum memory of 64GB.
It has 6SATA6 slots and 3 M.2 slots for Wi-Fi and memory modules. 3 PCle*16 slots and steel armor can be used with expansion cards through 3 PCle81 slots. It can support 2-way AMD and Nvidia graphic cards. Gigabyte Z390 has multiple connectivity options with other similar motherboards- 3 USB 3.1 Gen2 Type-A, 1 USB 3.1 Gen2 Type-C port, 4 USB 2.0 ports, and 2 USB 3.1 Gen1 ports.
You may be interested in: Best Dual CPU Motherboard
It would be best if you got a tower case for this model. This Motherboard is more expensive than others, but you will think that the price is reasonable when you see the features. There are many similar motherboards in the market with slight variations in the price and features. 
Pros
Crossfire support.
VRM has 12 Phase Power Design
Cons
Slightly expensive model
6. Gigabyte Z390 Aorus Pro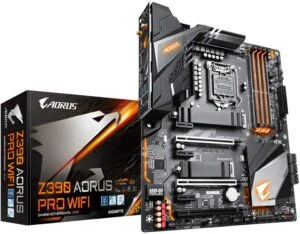 This one is similar to the other models like the ultra of the same series, but it is slightly different due to price and features. The best feature of this motherboard is that it is cheaper and provides value for money. PCB is black and white and RGB lights.
The VRM comes with a 12+1 phase power design. It can support 128GB of memory and can be overclocked up to 4400Mhz. Connectivity ports include many USB Type-A type C and USB 2.0 ports apart from the USB 3.1 ports. 
You may like: Best x570 Motherboards
It can support storage devices through 2 M.2 slots and 6SATA6 slots. These have heatsinks. The motherboard can support multiple AMD and graphic cards. PCI steel armor encloses the 3 PCle*16 slots. 
This board is expensive, yet it is better than many others in terms of features incorporated into it. The point is to get value for money, and this fulfills that criteria.
Pros
Price is affordable
Smart and sleek
Built for gamers
Cons
Nothing special and the performance is average. 
---
Final Words
The Intel Core i9 9900k is a processor that gamers swear by. No other processor can beat its performance in gaming in the same price range and power. It can be used for any application or latest titles as it has 8 cores and multiple threads. This is a very powerful processor, and that needs to have an equivalent cooling system. 
You can easily overclock it as it comes unlocked with a good motherboard, and that is why motherboard compatibility with the processor is essential. The point here is that you must use a powerful and feature-packed motherboard; otherwise, you cannot utilize the processor fully. 
Once you know that you will use i9 9900k as the processor, then your decision about the motherboard should be about the best compatibility and final performance together. Do you want more memory or the option to overclock the CPU? Do not take this decision lightly. Think carefully about all the issues like connectivity modules, cooling power, prices, and VRM design. Then check out the market for different models. The power and system always impact the price. 
 band. We also understand that price could be a deciding factor too, yet our suggestion is to choose the model based on features. Enjoy the superpowers of the new tech motherboards.